[ ik - install kernel ]

---

What is ik?
Simply type: ik after you have configured your kernel.
This will install the kernel, edit and update lilo or grub for you automatically.

---
White Paper on Install Kernel
Install Kernel White Paper

---

Since kernels are released so often, you must ask yourself, which method do you prefer?
With or without [install-kernel] ? :)

---
Without ik: % cd /usr/src/linux ; make dep ; make clean ; make bzImage ; make modules ; make modules_install ; mv /usr/src/linux/arch/i386/boot/bzImage /boot/bzImage-2.4.17 ; mv /usr/src/linux/System.map /boot/System.map-2.4.17 ; ln -sf /boot/System.map-2.4.17 /boot/System.map ; vi /etc/lilo.conf || vi /boot/grub/grub.conf ; /sbin/lilo

With ik: % ik -i
---

Screenshots of Install Kernel.

---
Normal Usage [ik -i]: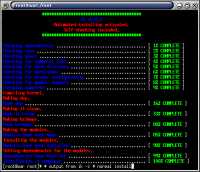 Fast Kernel Install [ik -f -i]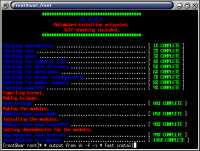 ---

Latest version: 0.9.4

ik-0.9.4.gz

ik-0.9.4.bz2

ik-0.9.4.zip


---